TechTonic 2021, an exclusive hiring event hosted by cutshort.io has seen a lot of activity in the one week of being live. We saw 350+ companies signing up to hire for 500+ jobs across various tech domains and 3000+ eager candidates registered looking for their next big career opportunity!
With the idea of asking companies #QuestionsThatMatter to a candidate while making a career decision, we hosted several companies in our live candid sessions and saw them sharing some really interesting insights about their company, their work, the culture, and more.
Here's a special shout-out to AppyHigh, a Gururgram-based mobile internet technology company that builds global products to engage and elevate millions, every day!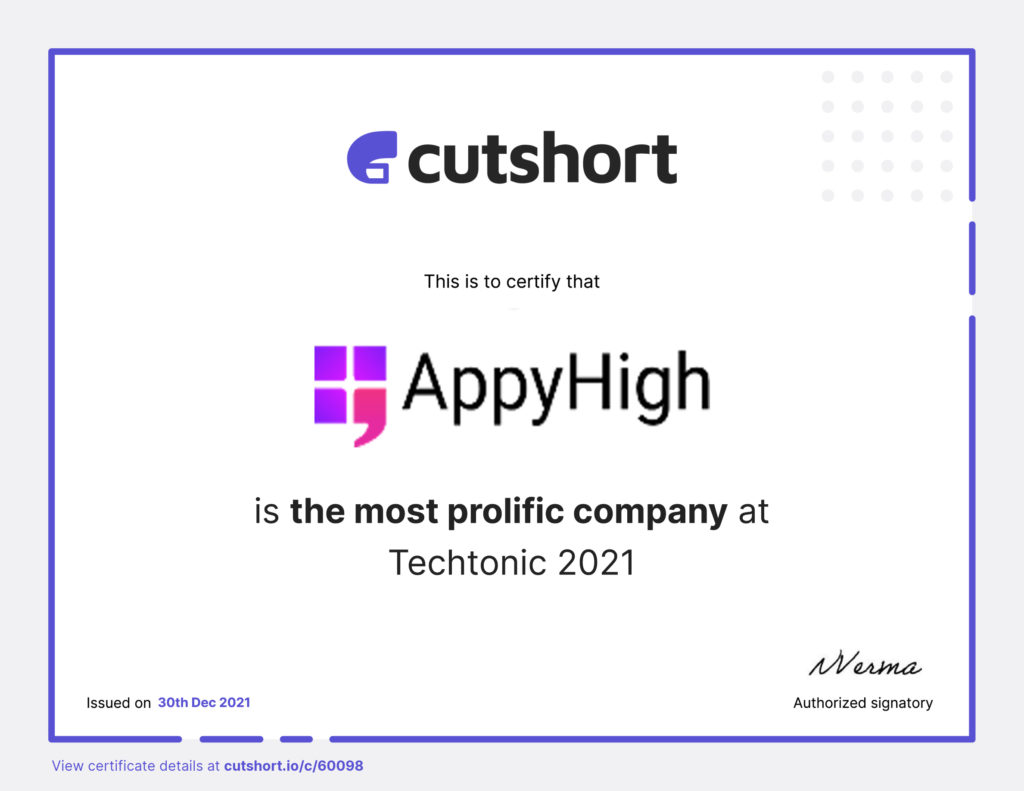 About AppyHigh
Founded in 2018, AppyHigh is a mobile app development company run by third-generation tech entrepreneurs who have made successful exits in the past.
Backed by a really enthusiastic team, AppyHigh is looking to make a mark in the world of the internet with finely designed products for the masses.
AppyHigh has been actively hiring for some really enthusiastic developers with a love for building and has closed multiple roles in less than two weeks!
"Cutshort is one of the best portal for recruitment, we got an opportunity to participate in the TechTonic event and the experience was top-notch. This event provided a functionality to focus on candidates who were actively looking for opportunity. As a recruiter this helps us to find the right candidate with quick turnaround time. This also makes our hiring process robust."
Samita Sharma – Assistant Manager HR Ops
If AppyHigh's vision of building a world where living is simple, decluttered, and enriching by creating technology for a simpler, better tomorrow resonates with you, check out the roles they're hiring for and apply today!
Missed out on TechTonic phase 1?
Fret not! TechTonic phase 2 is coming in Jan 2022 and we plan to make this event even bigger and better. Register now for all the latest updates and ask #QuestionsThatMatter to companies that matter to you.

Also check out our other winning companies from TechTonic phase 1