TechTonic 2021, an exclusive hiring event hosted by cutshort.io has seen a lot of activity in the one week of being live. We saw 350+ companies signing up to hire for 500+ jobs across various tech domains and 3000+ eager candidates registered looking for their next big career opportunity!
With the idea of asking companies #QuestionsThatMatter to a candidate while making a career decision, we hosted several companies in our live candid sessions and saw them sharing some really interesting insights about their company, their work, the culture, and more.
During this time, we had a LinkedIn post running for candidates to vote for their most liked company from TechTonic 2021 and based on the results, we have the winner – Ganit Inc. 🎊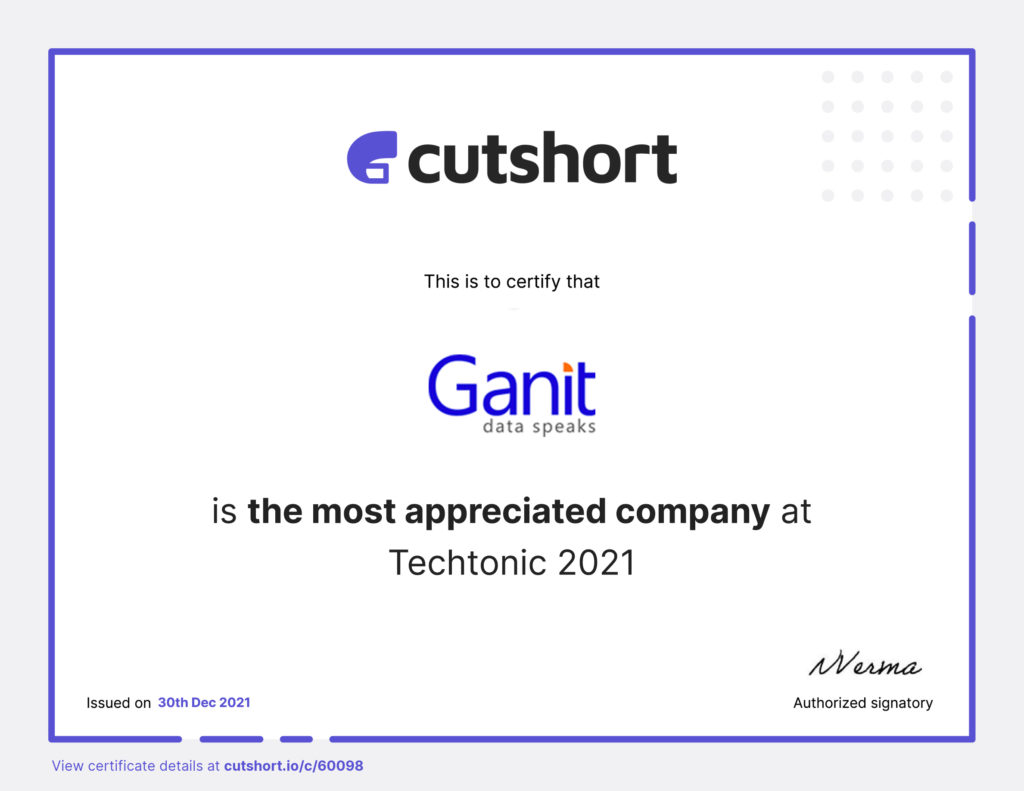 About Ganit Inc.
Founded in 2017, Ganit inc. is a Management consulting firm run by a team of problem solvers at heart. They use the power of AI and ML to help companies remove noise from their data and focus only on the important stuff that they need to grow.
With a mission to maximize decision-velocity and minimize decision-risk for ambitious enterprises by making data their voice, Ganit Inc leverages various tools to provide solutions across all aspects of data and helps productize services that include data engineering and analytics.
Check out our live interaction with Suma Guttikonda, HR Manager @ Ganit Inc. where she unravels important insights about the company, the problem they're solving, the team working on building the company, their vision, views, beliefs, and more.
"Thank you Cutshort for providing a wonderful platform like #TechTonic2021 to meet and greet other organizations. It became a rare encounter after the pandemic to catch up, this platform is helping us to know, share and learn about different organization cultures" – Suma Guttikonda on LinkedIn
Suma's experience from TechTonic 2021
Wish to join the stellar team at Ganit Inc? Here are the jobs they're hiring for at the moment on Cutshort.
Missed out on TechTonic phase 1?
Fret not! TechTonic phase 2 is coming in Jan 2022 and we plan to make this event even bigger and better. Register now for all the latest updates and ask #QuestionsThatMatter to companies that matter to you.

Also check out our other winning companies from TechTonic phase 1
Codemonk – The most responsive company at TechTonic 2021
AppyHigh Technologies – The most prolific company at TechTonic 2021