TechTonic 2021, an exclusive hiring event hosted by cutshort.io has seen a lot of activity in the one week of being live. We saw 350+ companies signing up to hire for 500+ jobs across various tech domains and 3000+ eager candidates registered looking for their next big career opportunity!
With the idea of asking companies #QuestionsThatMatter to a candidate while making a career decision, we hosted several companies in our live candid sessions and saw them sharing some really interesting insights about their company, their work, the culture, and more.
Here's a special shout-out to Codemonk, a Bengaluru-based startup that has been the most responsive company at TechTonic 2021!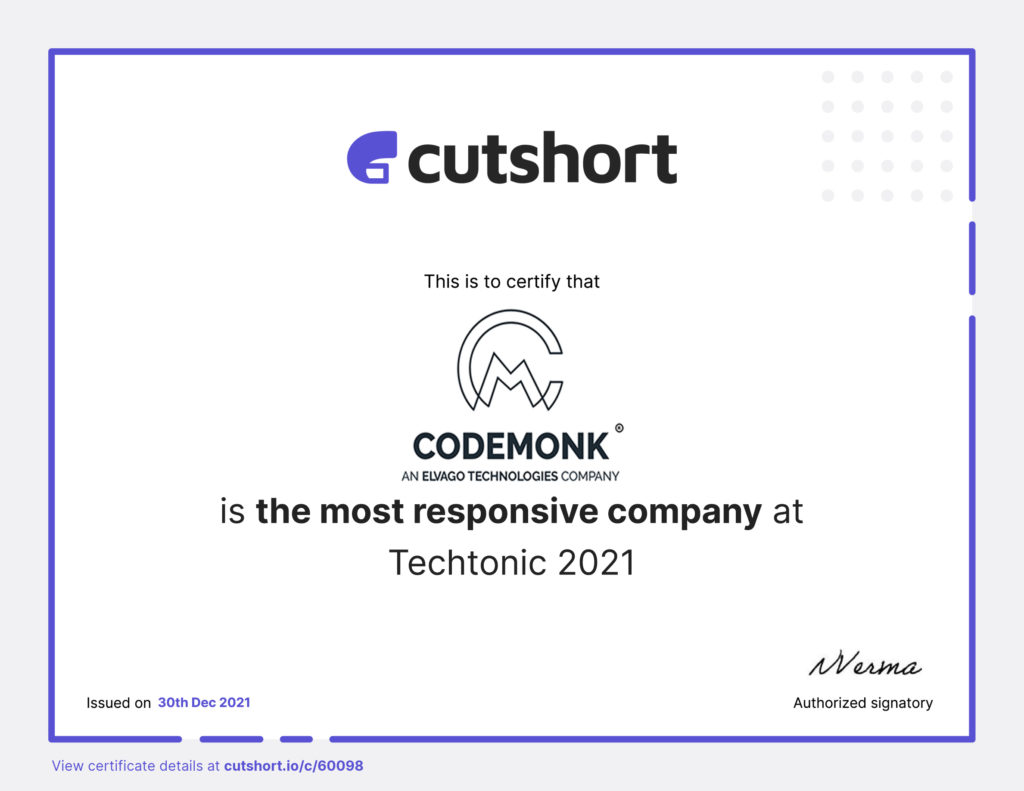 About Codemonk
Founded in 2018, Codemonk is a A full-fledged product design and engineering services firm that builds services that makes their clients' lives easier. From creating an amazing brand identity to designing user experience, they can make all of it and more happen.
Be it designing and building a product from scratch or resource augmentation to help you with one or a set of features, the team at Codemonk is focused on delivering successful results every single time!
With an engagement rate of 35% during TechTonic, Codemonk has been actively working on closing its roles and has been pushing out offers to candidates that fit their requirements.
"Cutshort has been absolutely amazing throughout the whole Hiring process. Techtonic event boosted the process getting good flow of applications and we could find active and good job seekers for our requirements. Cutshort team you are brilliant at what you do!" – Susan Preetham (HR @ Codemonk)
If you are a developer with a love for building some really cool products and wish to with a team full of really skilled techies, check out the roles Codemonk is hiring for on Cutshort.
Missed out on TechTonic phase 1?
Fret not! TechTonic phase 2 is coming in Jan 2022 and we plan to make this event even bigger and better. Register now for all the latest updates and ask #QuestionsThatMatter to companies that matter to you.

Also check out our other winning companies from TechTonic phase 1
AppyHigh Technologies – The most prolific company at TechTonic 2021