We at Cutshort are always trying to help good companies and tech professionals connect with each other and make the whole hiring experience on both sides as seamless as possible.
And this time too, we are picking a problem that often bugs professionals while applying for jobs: too many job openings with "no-so-active" recruiters. It's a big issue because your updated resumes and active job search won't matter unless you get the attention of the right person at the right time. And we're calling it "Cutshort Spotlight" — a monthly showcase of interesting companies handpicked for their active hiring practices.
But before we get down to the list of companies that made it to this month's showcase, let's have a detailed look at the factors considered while shortlisting them.
Factors considered while shortlisting companies for Cutshort Spotlight:
Companies that are interesting and hiring actively right now
Answering questions on their roles, culture, opportunities, etc.
Take priority action on applications made during the Spotlight period (6-8 April 2022).
That being said, it's now time to meet the 21 companies and start-ups that we have selected for April, know what they are about, and the top positions that they are hiring for.
OYO Rooms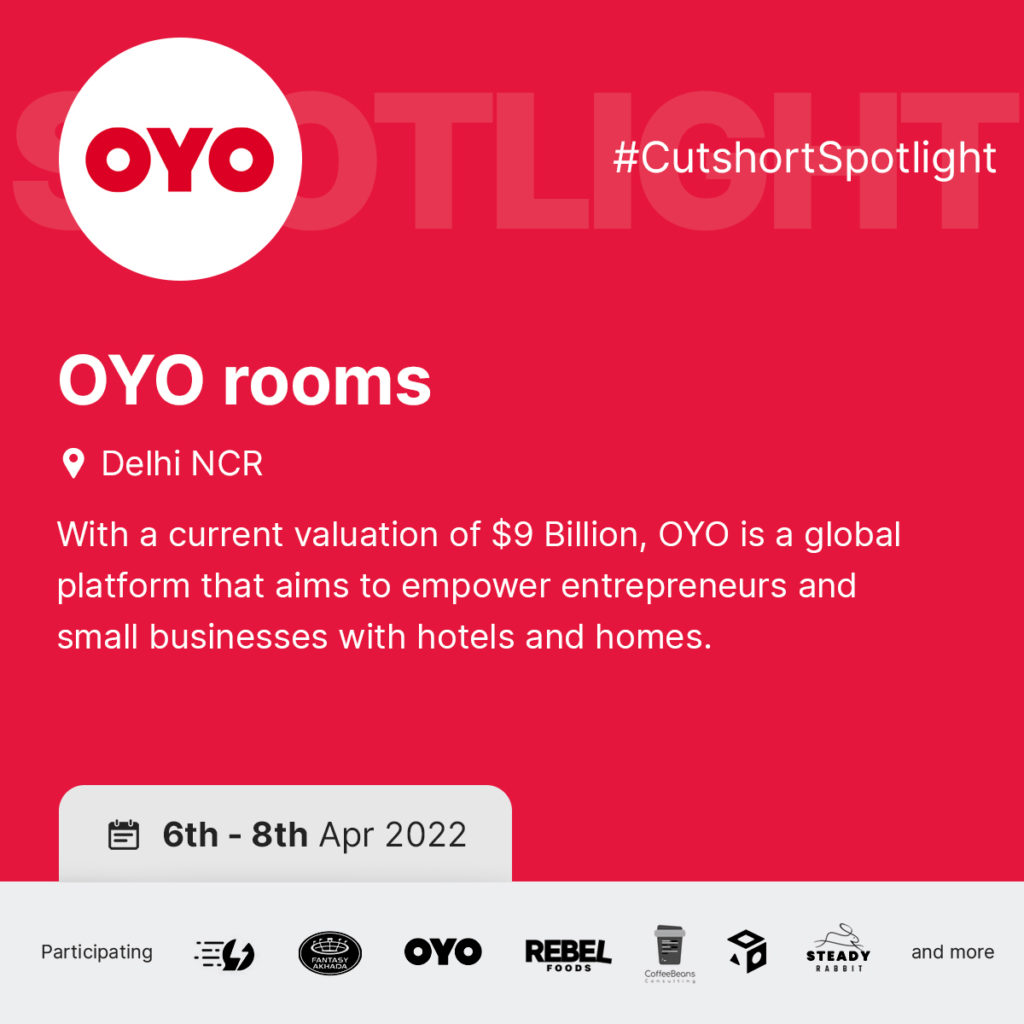 This one doesn't need an introduction. Founded in 2015, OYO Rooms is a funded company based in NCR (Delhi | Gurgaon | Noida). It has more than 250 employees currently and works in the domain of hospitality. They have now grown into an Indian multinational providing living spaces of all shapes and sizes across the globe.
They are hiring for data analyst, dev-ops, cyber security engineers, etc., at Cutshort. To know more, click here.
Why join OYO?
The question should rather be: why not join OYO? It is one of the largest growing chains of hotels and accommodations, spread across 35 countries, that aims to empower entrepreneurs and small businesses with hotels and homes. And with leading professionals of their field joining this giant, you will have the opportunity to learn and grow in a competitive environment.
Rebel Foods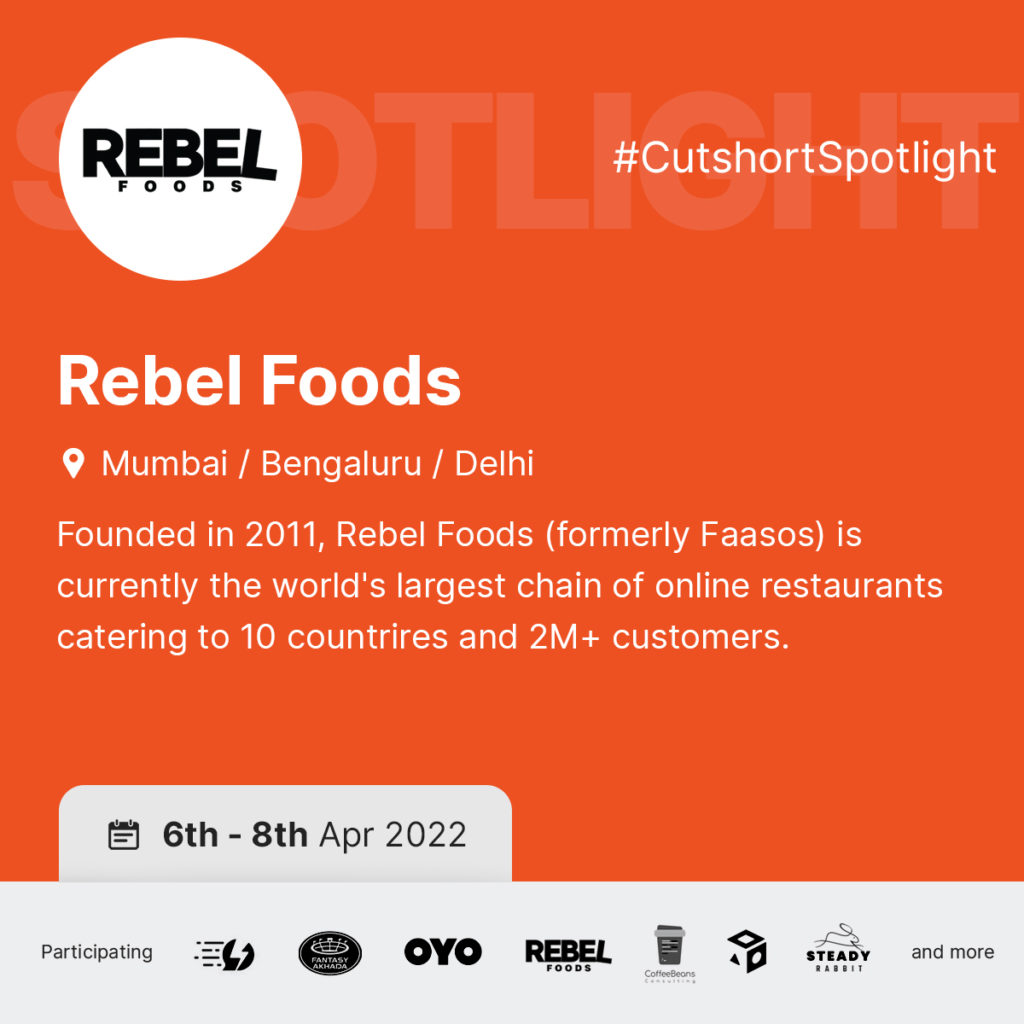 Touted as one of the largest cloud kitchen restaurant chains in the world, Rebel Foods is an Indian online restaurant company, owning popular on-demand food servicing brands like Faasos, Behrouz Biryani, Oven Story, etc.
At Cutshort, they are hiring software engineers, QA engineers, automation engineers, etc. To know more, click here.
Why join Rebel Foods?
Rebel Food garners an open, transparent and encouragement-led culture. Thanks to that kind of culture, the organisation attracts customers and qualified employees, and an interesting mix of people, which means an interesting opportunity to learn and grow.
CoffeeBeans Consulting
Founded in 2015 and based out of Banglore, CoffeeBeans not only helps businesses with their consultation model, but also works as a "product" factory that creates products for various domains primarily built on AI. They specialise in Big Data Analytics, Machine Learning and AI, and building mobile and responsive web apps.
They are hiring for developers and tech leads at Cutshort. To know more, visit this link.
Why join CoffeeBeans Consulting?
With a flat hierarchy and inclusive culture, CoffeeBeans has successfully built a culture that encourages and incentivises individuals with great ideas and strong work ethics. A strong and approachable leadership team always keen to help the ones with glowing ideas and a strategy to put them into action.
AiSensy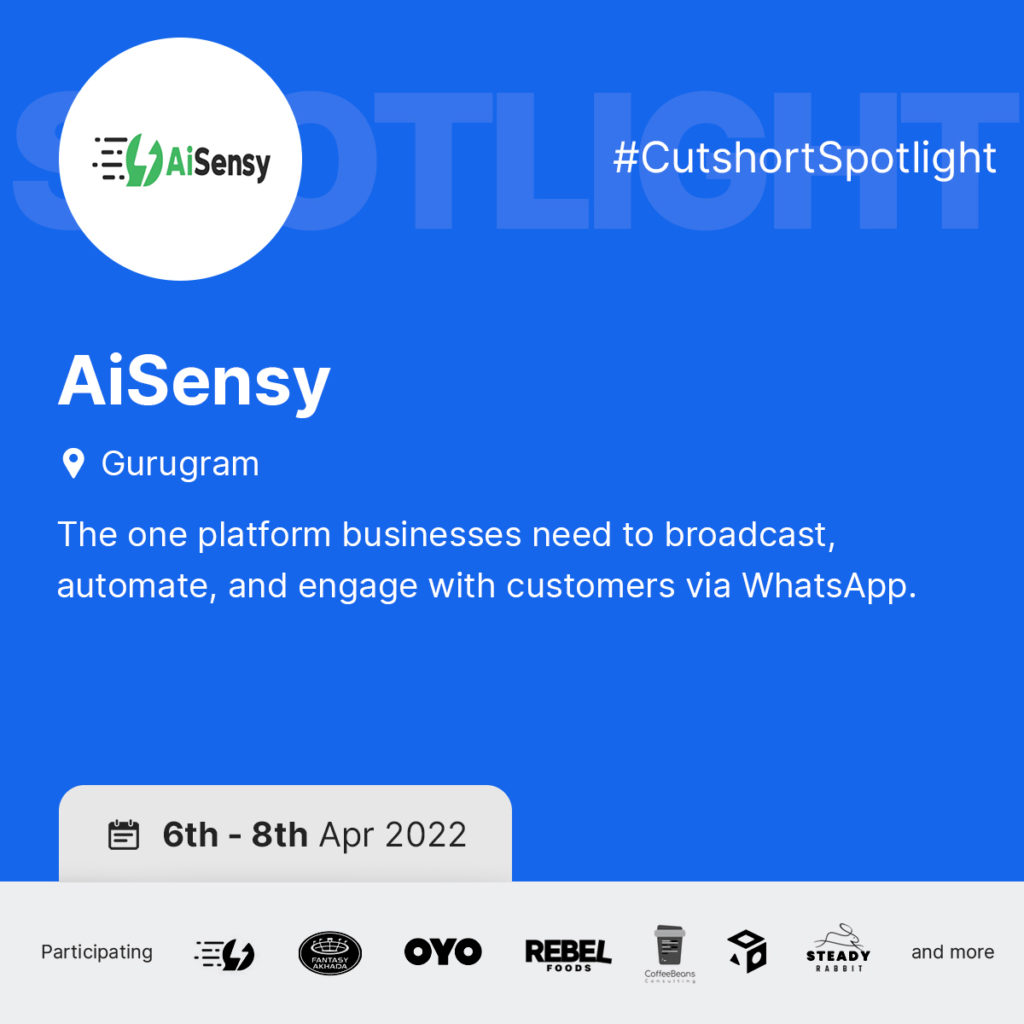 AiSensy are builders of an end-to-end WhatsApp-based marketing automation customer support platform for enterprises & growing SMBs. Message broadcasting, notification automation, & providing support via chatbots are a few of the many services offered via AiSensy.
They are hiring software engineers, architects, dev-ops, etc., at Cutshort. To know more, click here.
Why join AiSensy?
With a solid internet marketing product that adds to its customer base everyday and a small but motivated team of talented professionals, the opportunities to learn and grow at AiSensy are phenomenal.
Zevi.Ai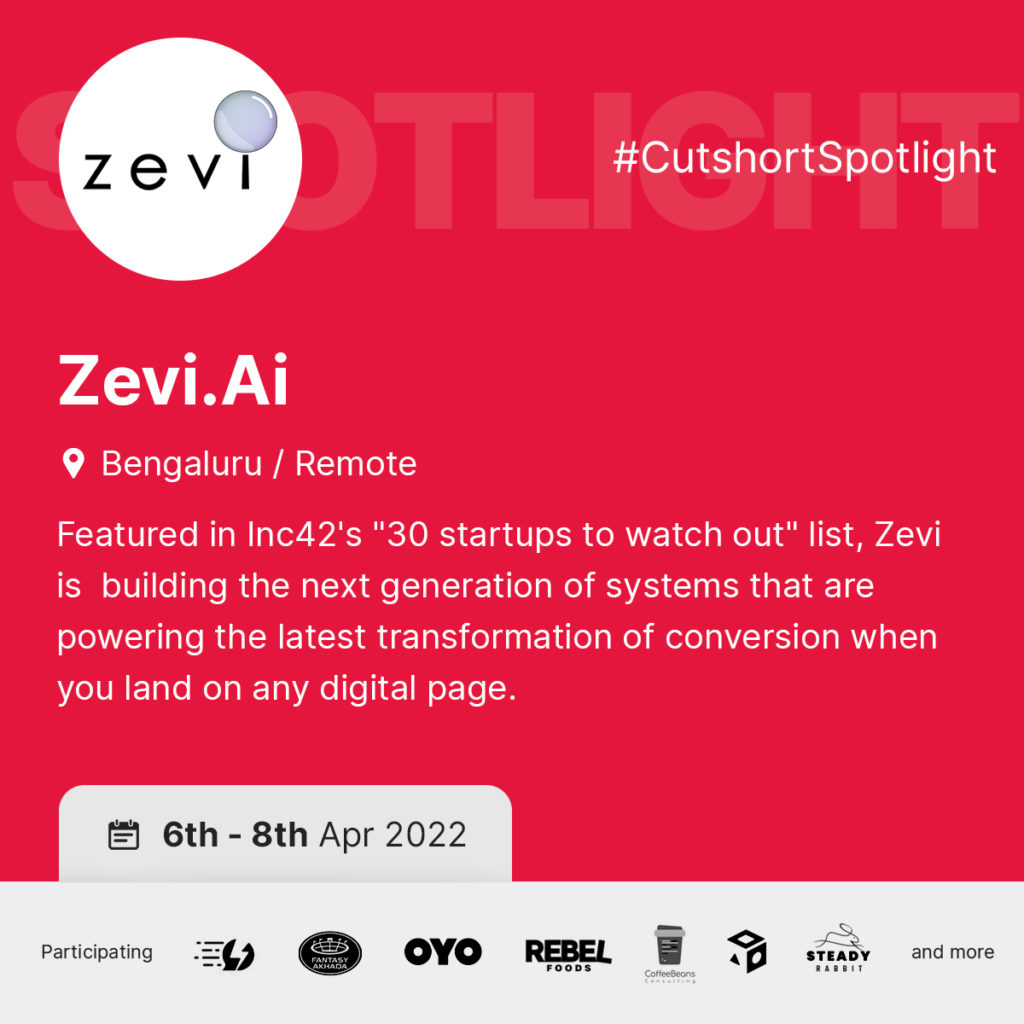 Founded in 2021, Zevi is an AI-based, in-site search engine that drives towards increasing conversion in the digital arena by providing best in class customer experience through search.
They are looking to hire software engineers , analysts, frontend engineers, etc., at Cutshort. To know more, click here.
Why join Zevi?
A team built of IIT alumnus and ex-Myntra(Walmart) and ex-Microsoft professionals, Zevi is the perfect for those who wish to taste the thrill of working at small but exponentially growing start-up.
FlyyX Technologies Pvt. Limited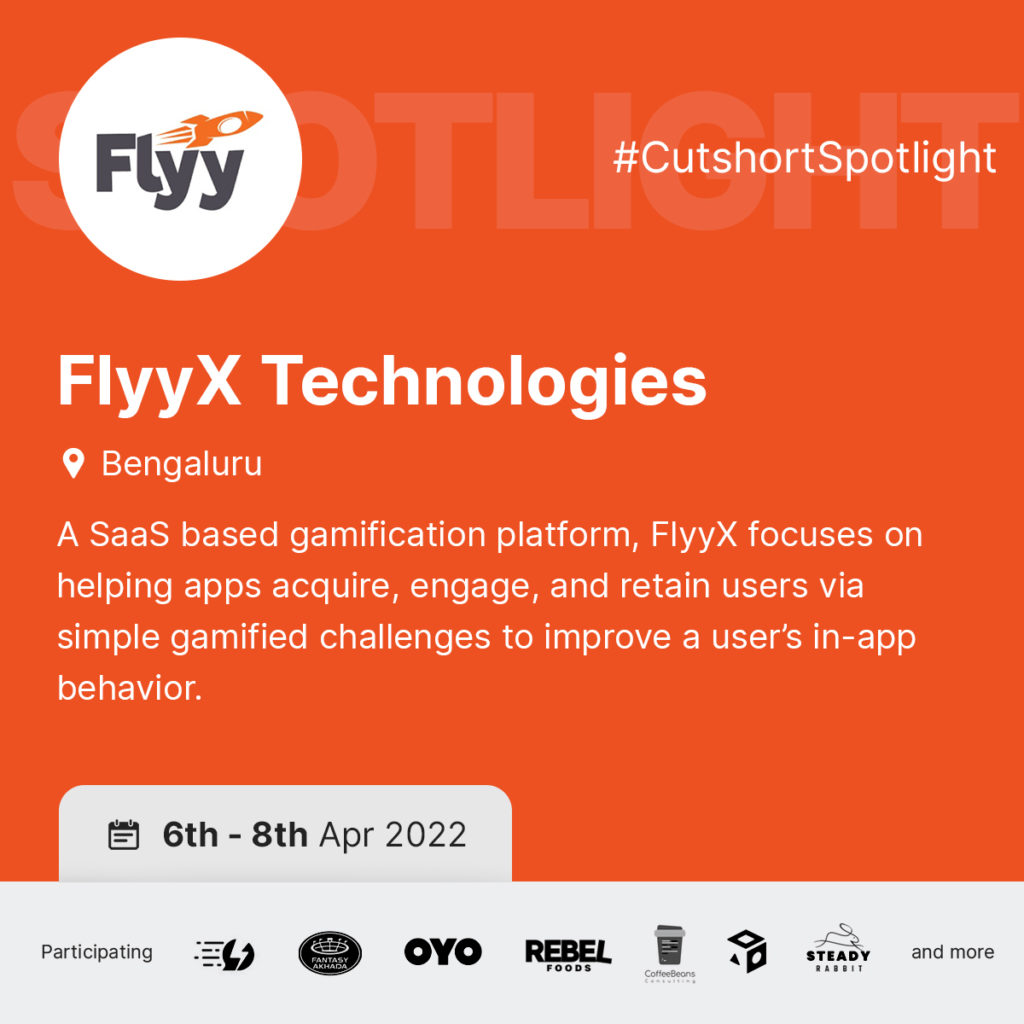 Flyy is a saas-based product gamification platform that helps app/website builders in creating gamified challenges to help them improve users' acquisition, engagement, and retention. They are trusted by the likes of DealShare, Momspresso, Mintpro, Stucred, Grocery factory, etc.
They are actively hiring for software engineers, front-end developers, and other such tech professionals at Cutshort. To know more, click here.
Why join FlyyX?
If a friendly workplace and the chance to work with amazing minds are on your list, and if you have what it takes to be in a start-up, then FlyyX could be your dream job destination.
Pawzeeble Infosol LLP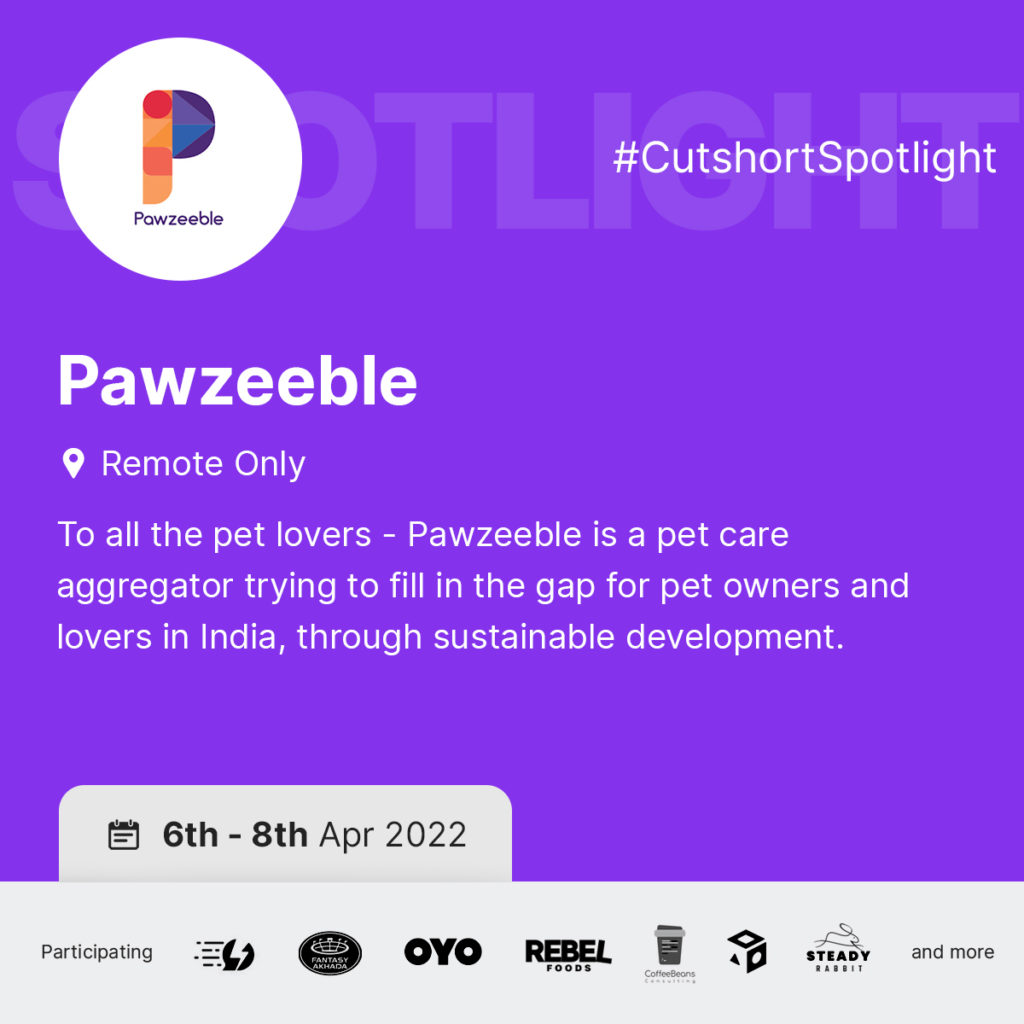 Pawzeeble is a cloud-based platform that caters to all sectors of the pet care industry with its various offerings. This also includes a social networking app and pet care marketplace that focus on streamlining daily processes for both service providers and pet owners.
Analysts, software and web developers are a few roles that they are looking to fill via Cutshort. To know more, click here.
Why join Pawzeeble?
Join them for the interesting and noble dream they're planning to fulfil — to fill in the gap for pet owners and lovers in India, through sustainable development. If you share their love of pets, there is no place else to be as a professional.
Memorres Digital Private Ltd.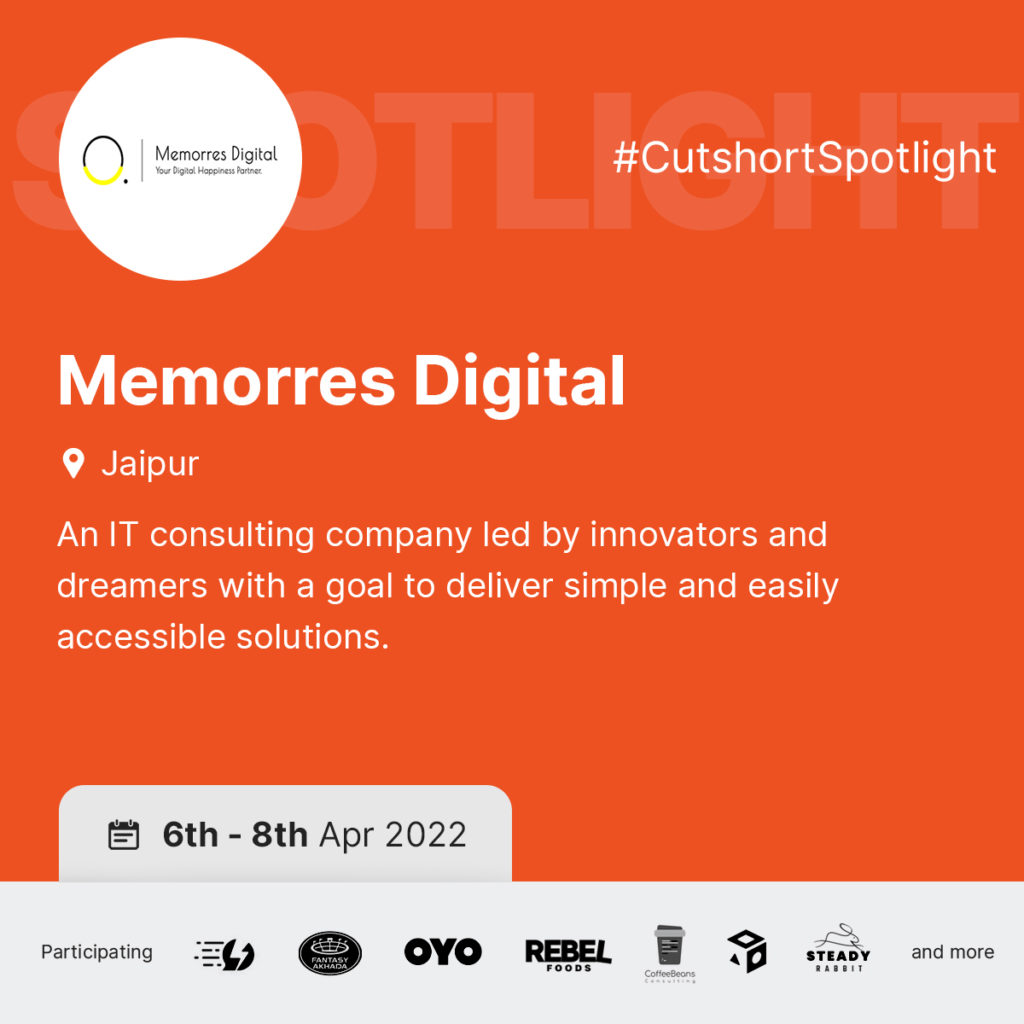 Founded in 2015, Memorres is an IT & Digital Consulting company that leverages its experience, technical expertise and innovative approach to build solutions for clients.
They are actively hiring for developers and QAs at Cutshort. To know more, click here.
Why join Memorres?
If you love to write code, have a growth-driven mindset, and get a kick out of delivering perfect things, Memorres could be the right place for you.
MangoApps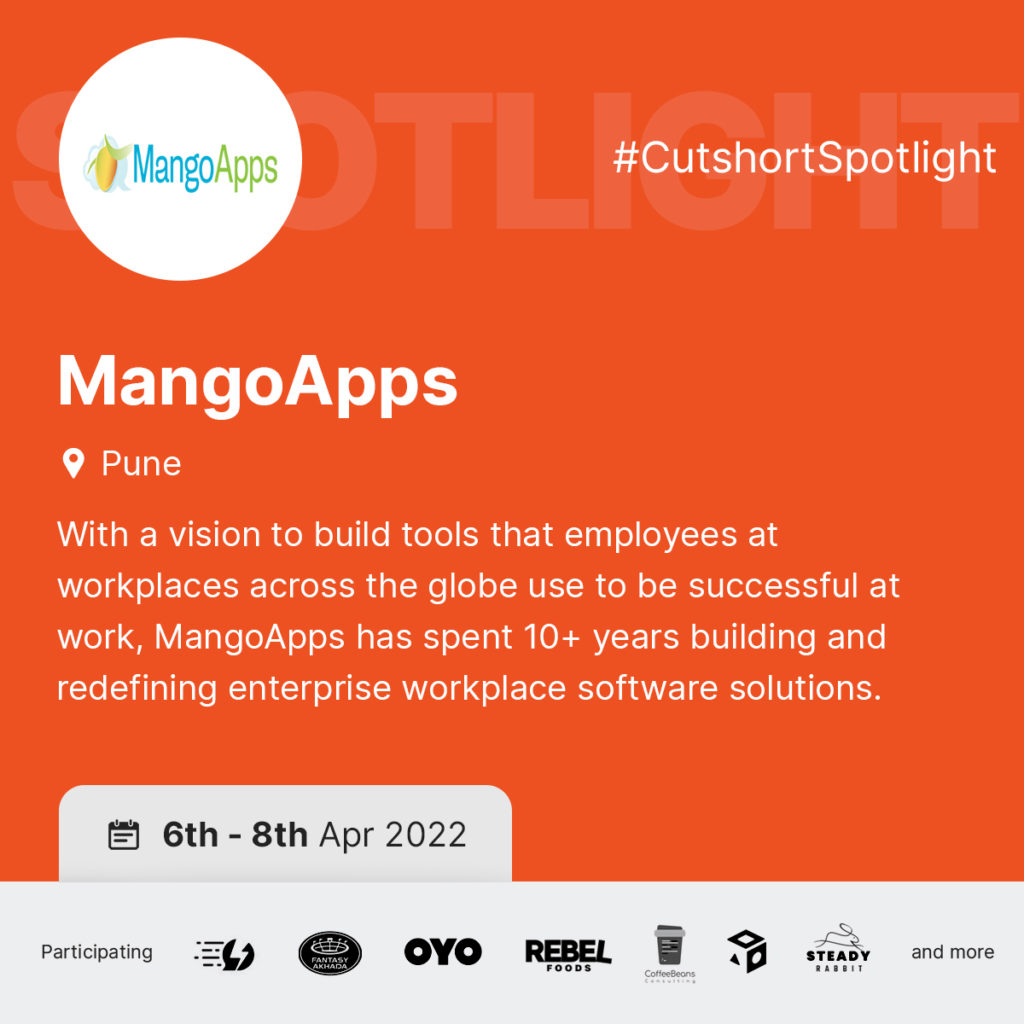 Founded in 2007 and built for organisations big and small, MangoApps is a cloud-based solution that brings content, communication, training, and operations on a single platform. This helps them serve their users with a unified employee experience — saving both time and costs.
Currently, they are hiring Fullstack/RoR Engineers, Front-end Engineers, Support Engineers, and Engineering Managers at Cutshort. To know more, click here.
Why join MangoApps?
A fun workplace full of opportunities with a flat hierarchy devoid of office politics, MangoApps is where your work speaks for you. And you'll also get to make a lot of new friends and a lot of fun memories.
smallcase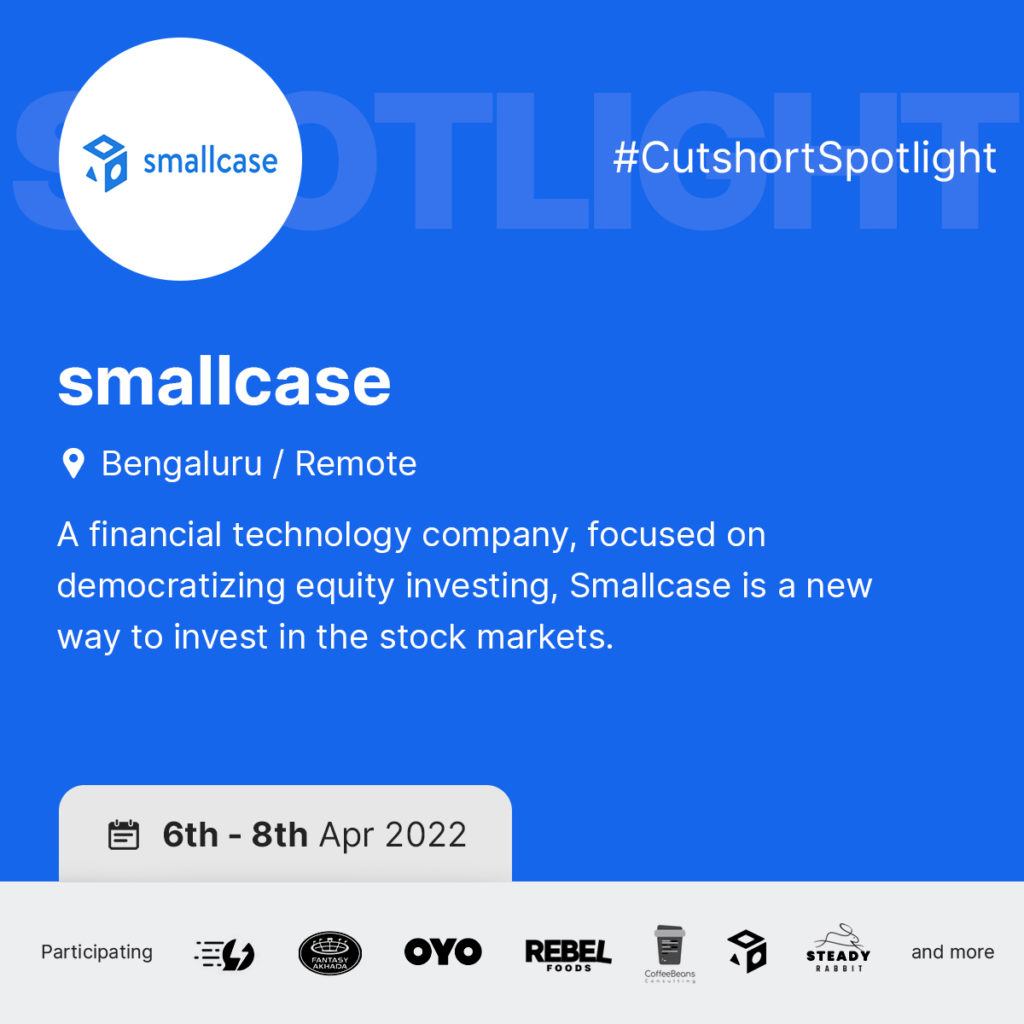 Founded in 2015, smallcase is a fin-tech company with a platform that helps SEBI- registered individuals and entities with their investment management business to provide a seamless and digital investing experience to their clients.
Engineers, product analysts, QAs, etc., are a few positions they are hiring for at Cutshort. To know more, click here.
Why join smallcase?
On a mission to build better investment products for every Indian, they are inviting fun people with the know-how of making investing simple and modern to join their team. If that sounds like you, you can join smallcase.
Borderless Softech Pvt. Ltd. (Stockal)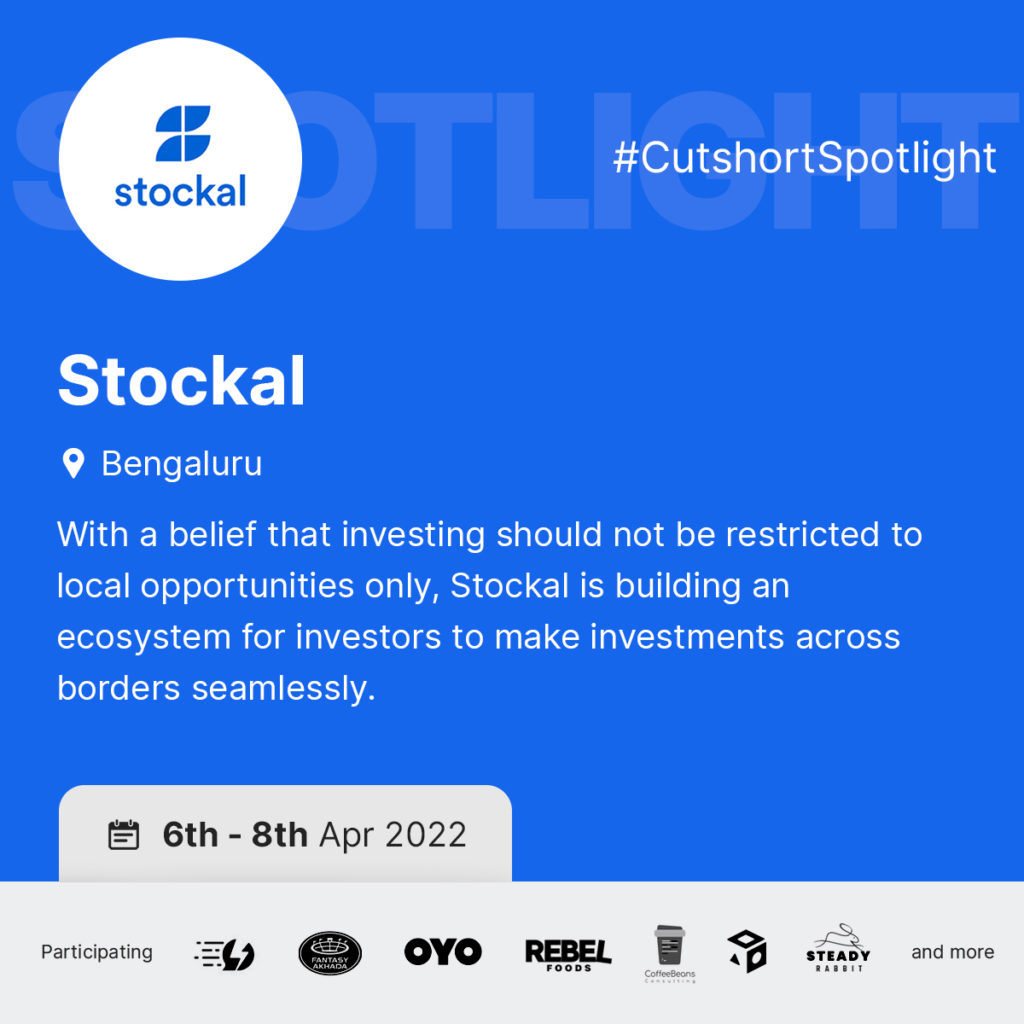 Another fin-tech on our list, Stockal is a New York-based digital platform that makes cross-border investment super-easy for its users. Its list of features includes local compliance facilitation, cross-border money transfer logistics, etc.
Engineers, developers, QAs, etc., are a few tech roles that they are hiring for at Cutshort. To know more, click here.
Why join Stockal?
Joining Stockal means landing the opportunity to work with an amazing team, getting mentored by the best in the industry, getting to work in a domain (fin-tech) that's growing exponentially, and benefits like paid time offs, paternal leaves, and WFH.
Super Six Sports Gaming (Fantasy Akhada)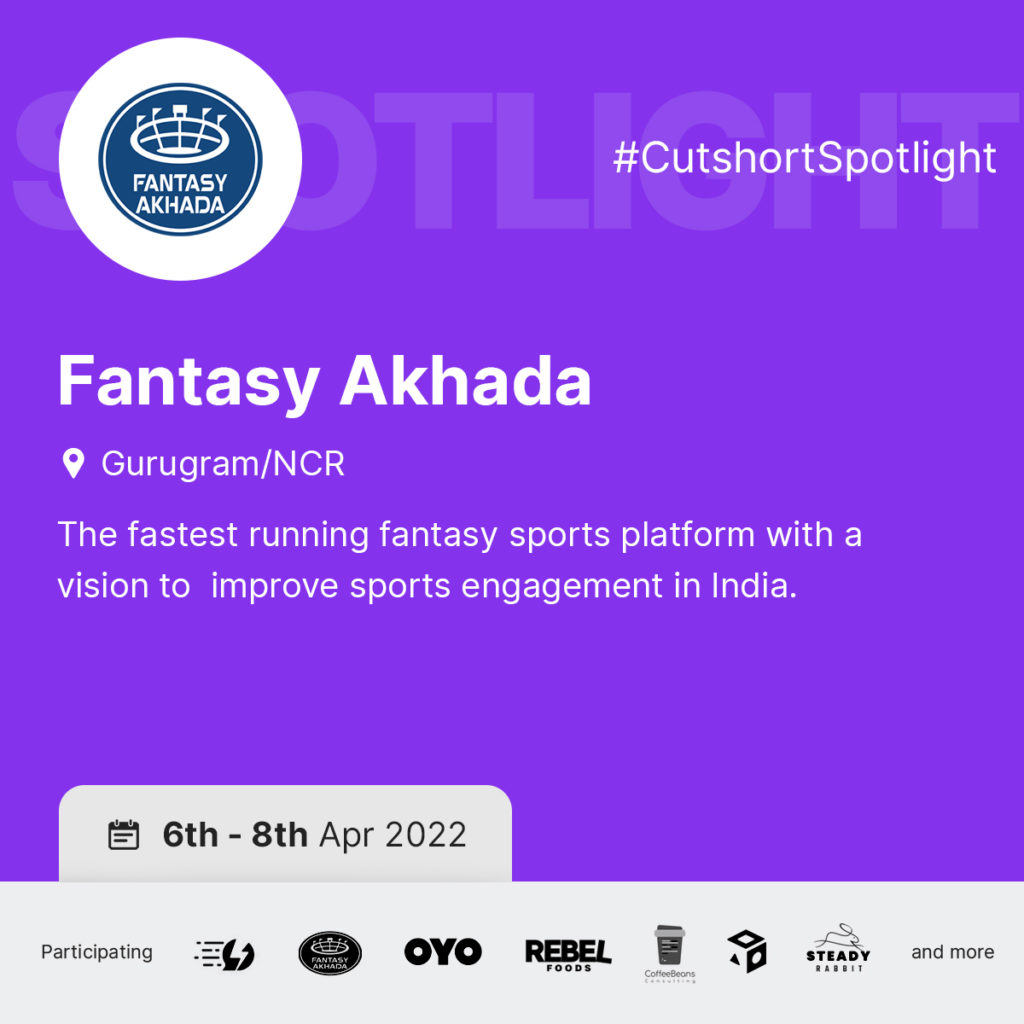 A flagship of sports-tech start-up Super Six Sports Gaming, Fantasy Akahada is an application that delivers a safe and fun fantasy sports experience to its users.
Data scientists, developers, QAs, etc., are a few roles they are hiring for at Cutshort. To know more, click here.
Why join Fantasy Akhada?
They are a young and sports-passionate organisation with a vision to make more people follow sports and increase the engagement levels of existing fans across different sports. Join them if you are into sports as much as them.
Samaaro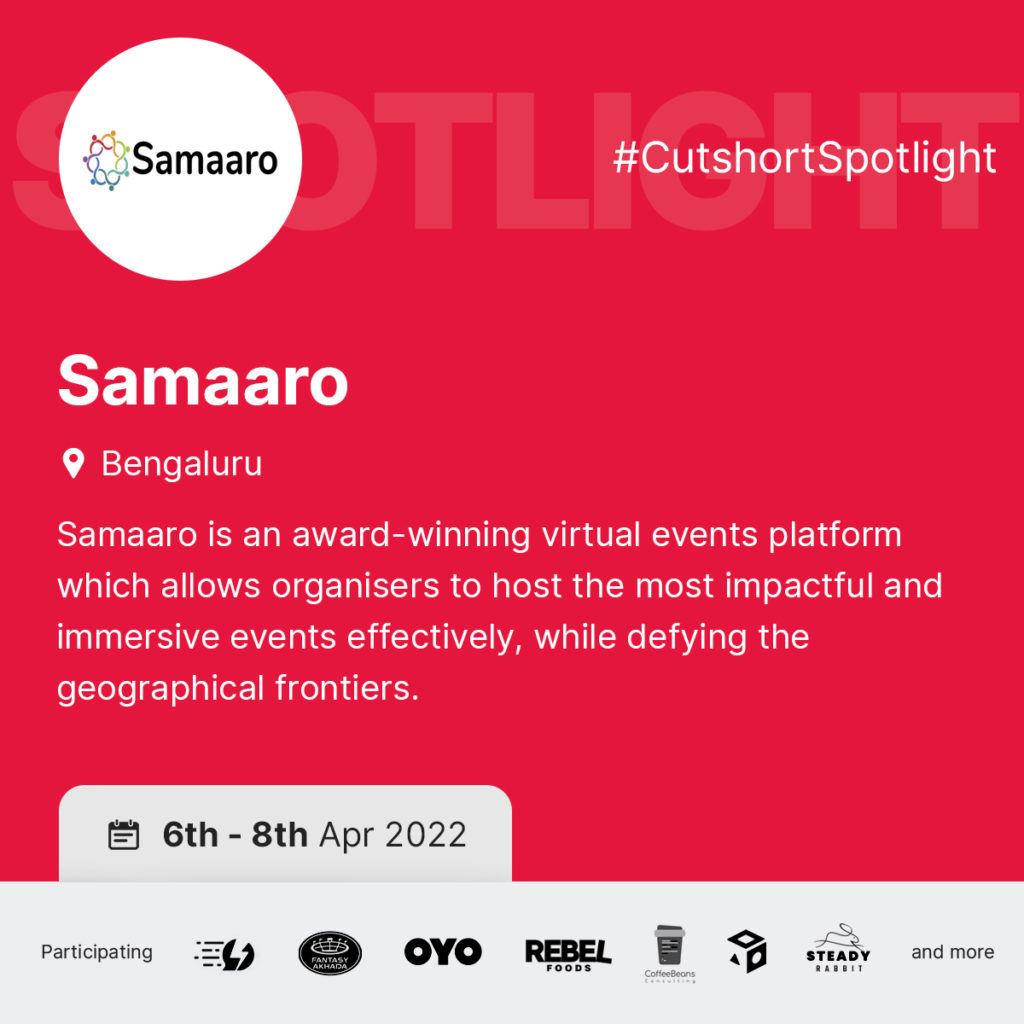 Founded in 2016, Samaaro is a Bangalore-based start-up that runs a virtual event platform that helps organisations host scalable, secure, and effective virtual events for a global audience. As an employer, they provide a nurturing environment for holistic growth to their team members.
Web developers, data analysts, software engineers, etc., are a few tech roles that they are hiring for at Cutshort. To know more, click here.
Why join Samaaro?
As an employer, they help their team members master their career journey and realise their true potential. From holistic development to lifelong learning opportunities, they have built a nurturing environment that helps their team expand their skills and create career mobility across different domains.
The Solar Labs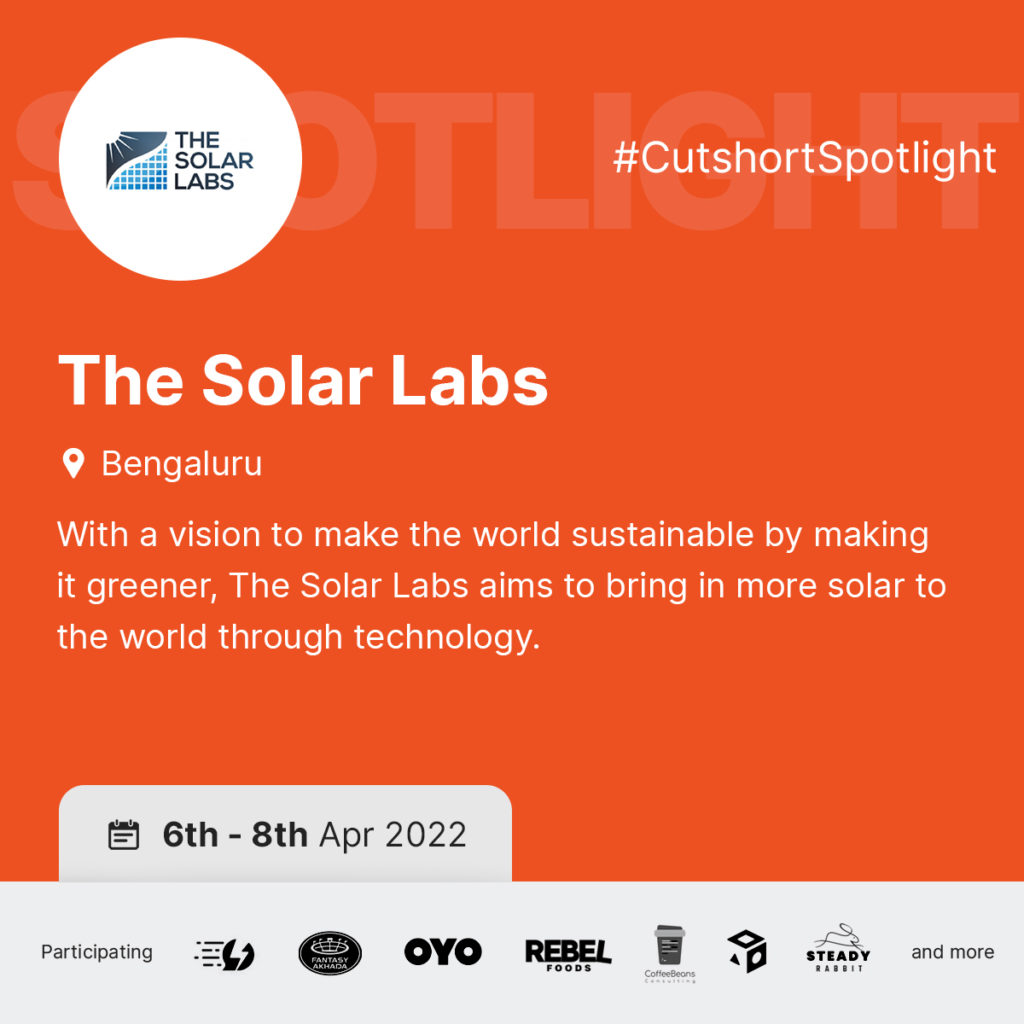 Headquartered in New Delhi and founded in 2017, The Solar Labs are providers of solar sales & design software that helps its users create beautiful, high-converting, easy-to-sign solar design & sales proposals in minutes.
Full Stack developer and graphics engineer are two tech roles that they are currently hiring for at Cutshort. To know more, click here.
Why join Solar Labs?
They are building a greener future by helping solar installers and developers design more optimised solar PV systems and increase energy yield. If helping Earth with your professional skills was ever on your list, then now is the time.
Trinkerr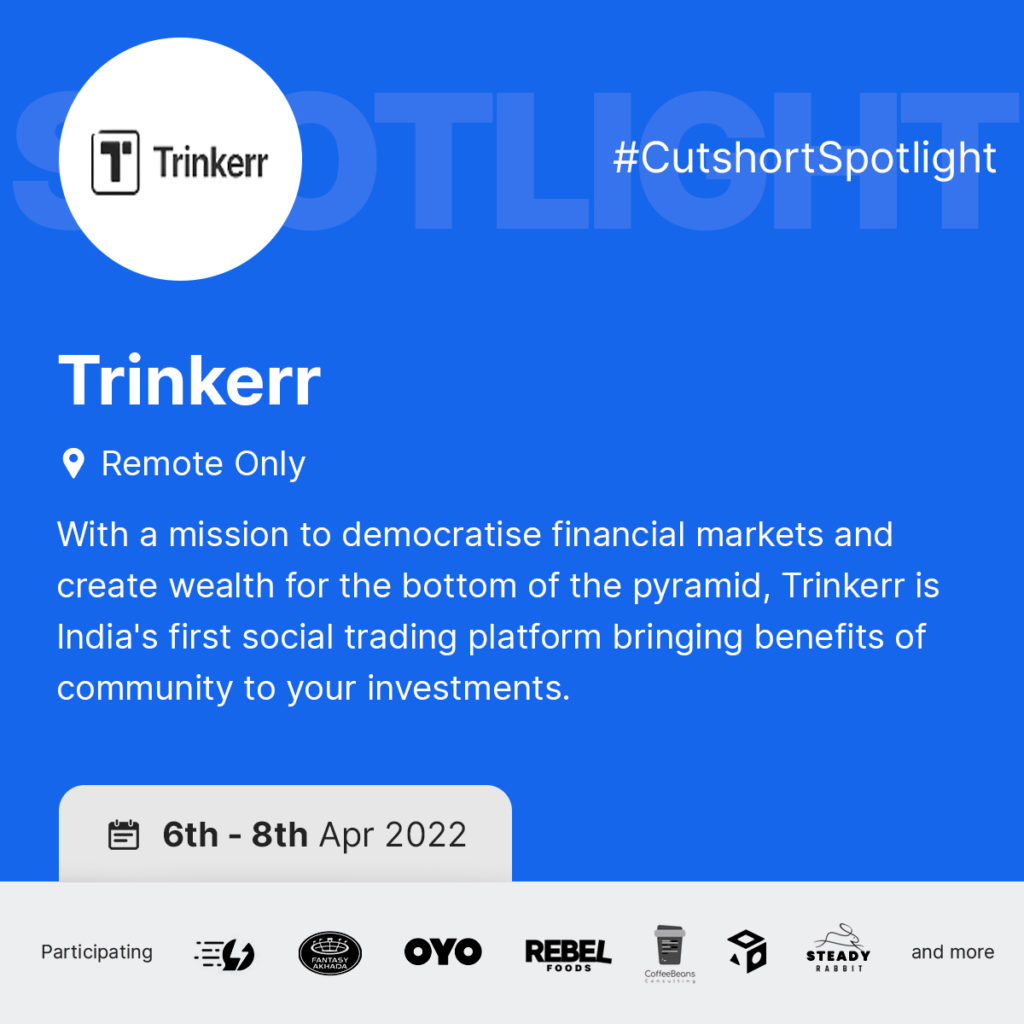 Founded in 2021, Trinkerr is a Bangalore-based fin-tech start-up who are builders of India's first social trading platform with the mission to create wealth for the bottom of the pyramid.
They are hiring for tech roles like UX engineers, software developers, etc., via Cutshort. To know more, click here.
Why join Tinkerr?
If you are versatile and passionate about taking on new problems, comfortable wearing many hats, and get excited about working across discipline, then you can give Tinkerr a shot.
Quicken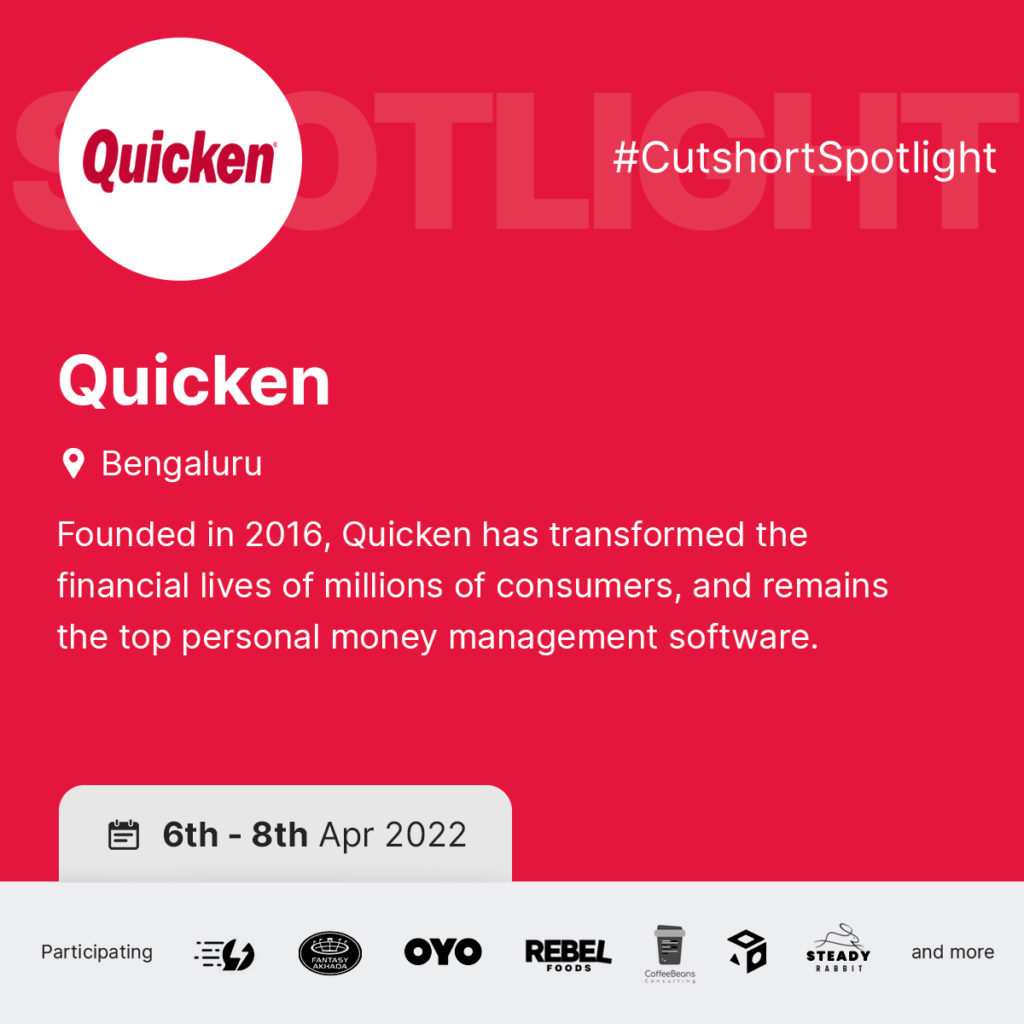 Founded in 1982 and based out of Menlo Park, California, Quicken is builder and provider of personal money management software. Daily expenditure tracking, investment management, retirement planning, etc., are just a few services that they provide to their users on their Platform.
Product developers, quality engineers, etc., are a few tech roles that they are hiring for at Cutshort. To know more, click here.
Why join Quicken?
Their success lies in operating with small, collaborative teams and they're committed to empowering their team's personal and professional growth. P.S. They also have weekly meetings covering the overall business performance, so you get a candid look at how an organisation really works.
iMocha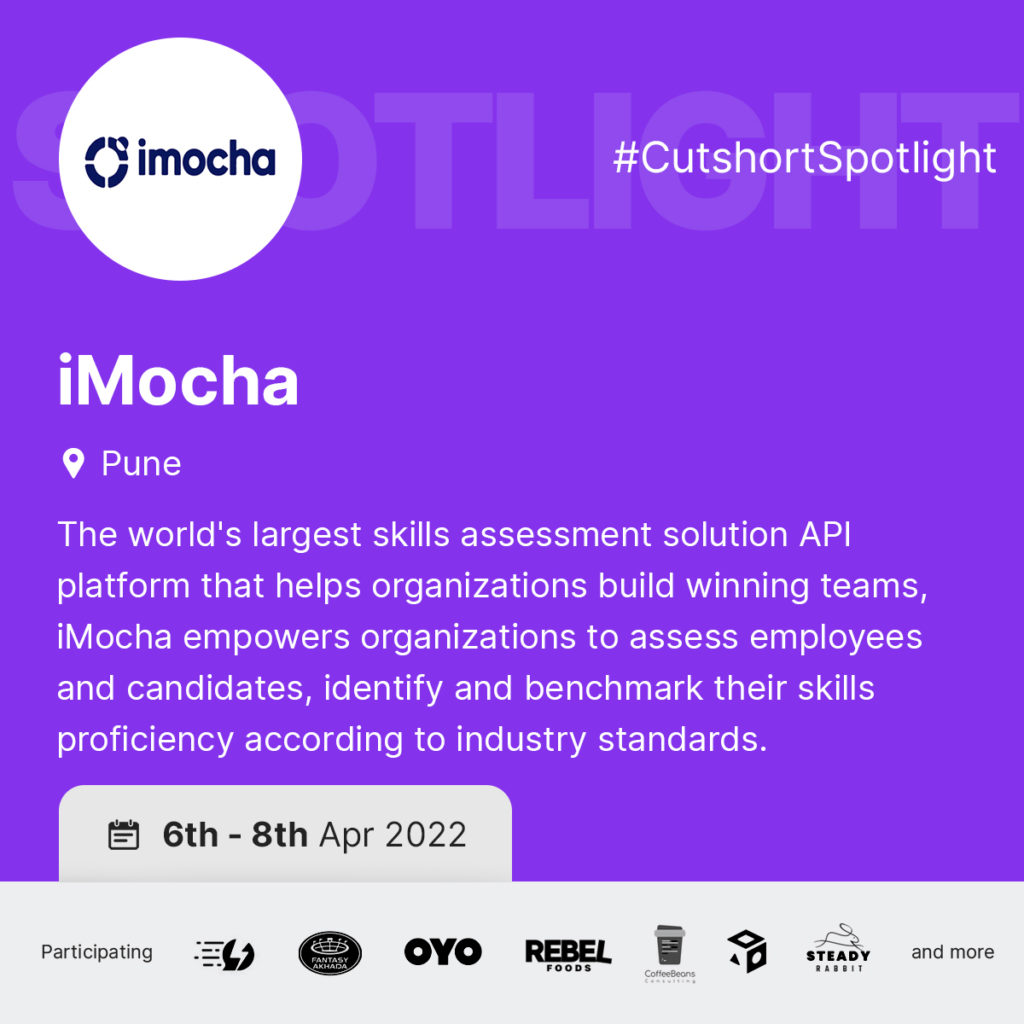 Founded in 2012 and based-out of Claymont, Delaware, iMocha is an AI-powered digital skills assessment platform that helps users (organisations) build teams. With features like skills library, custom assessments, and 24*7 support, they have helped their users make hiring decisions better and faster.
They are hiring tech talent in domains like UI development, software development, Cloud devops, etc., at Cutshort. To know more, click here.
Why join iMocha?
With a vision to create a job-fit world, iMocha gives you an opportunity to build a world where everyone — from startups to enterprises — is able to quickly and efficiently hire the right person for the right job. Their workplace benefits include great salary and equity, great work-life balance, annual retreat, etc.
Steady Rabbit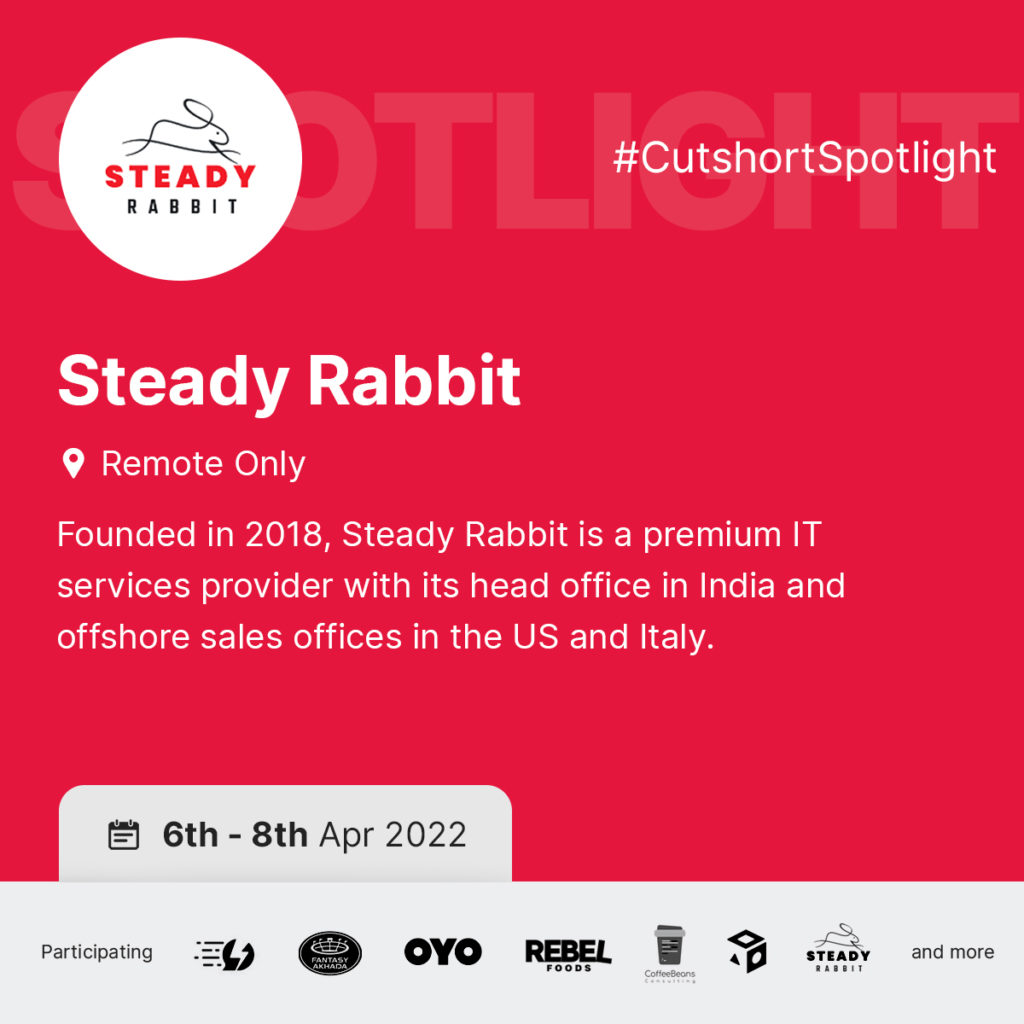 Founded in 2018 and based out of Noida, Steady Rabbit are providers of premium IT services both nationally and internationally. They are also the creators of digital products like OneAD- that amassed around 30 million subscribers pan India — and OneMALL, an online marketplace that delivers an awesome digital shopping experience to its users.
They are open to hiring for tech roles like React Native Developer, Node.js Developer, etc., at Cutshort. To know more, click here.
Why join Steady Rabbit?
As a leading IT service provider, Steady Rabbit gives you the opportunity to work and see how great products are built from scratch. Add that to their workplace culture that promotes personal development, complete ownership, and learning opportunities, and you get a workplace to die for.
Tech Prescient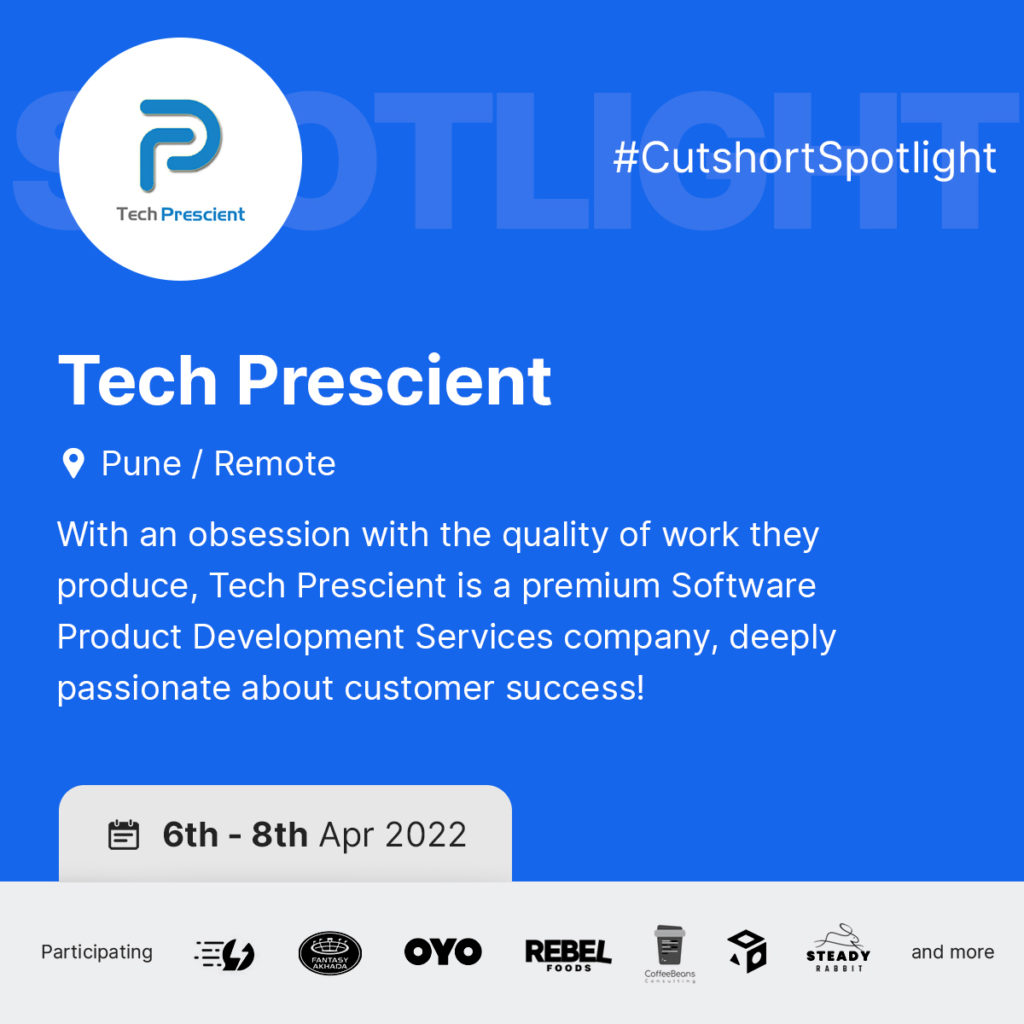 Another IT service provider on list for this month, Tech Prescient is a Pune-based digital product development company and was founded in 2017. They specialise in providing full-stack product development, cloud computing, BI & Analytic, etc.
Currently, they are hiring for tech roles like Data engineers, backend leads, frontend leads, etc., via Cutshort. To know more, click here.
Why join Tech Prescient?
They are as much fun to work with as they are hardworking. And with a knack for seeing their clientele through on their product development journey, you get a chance to see how IT projects and products are built and managed right from ideation to execution.
CoverForce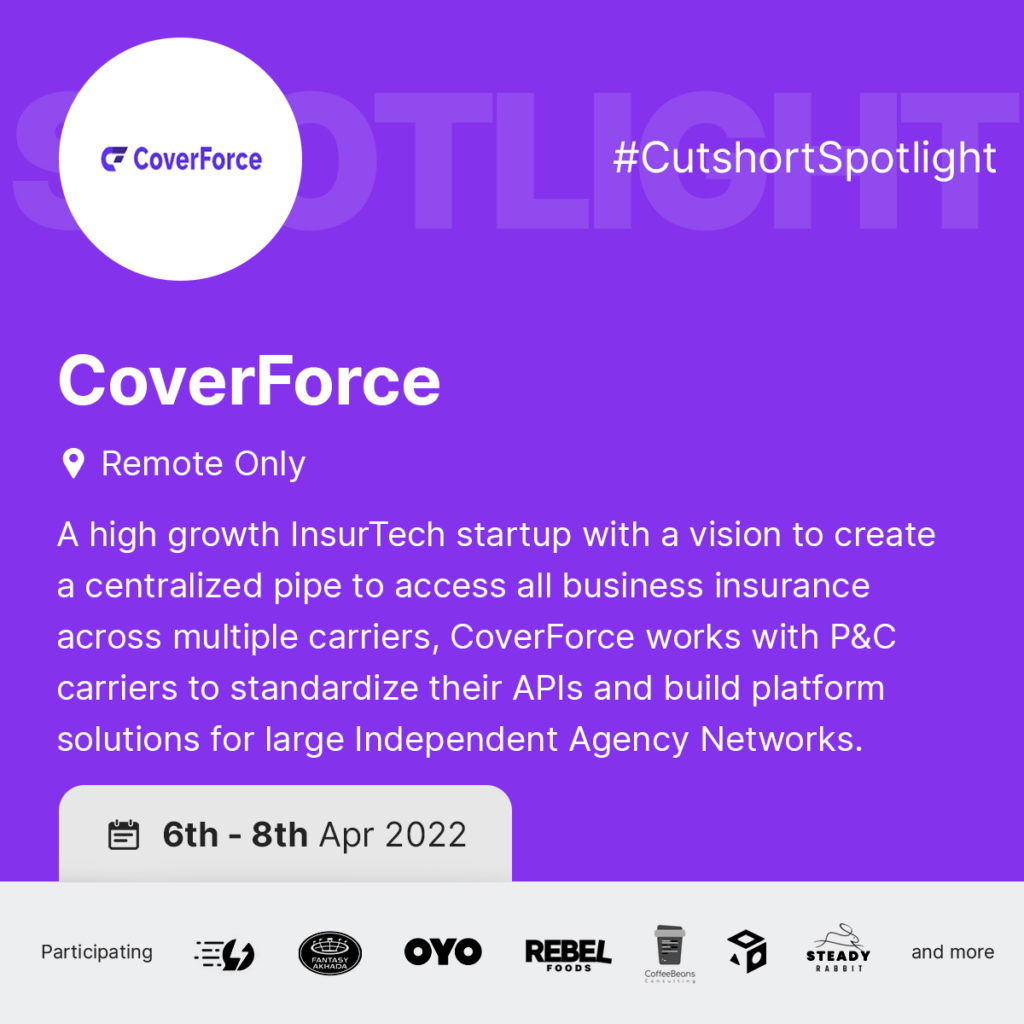 Founded in 2020 and based out of Philadelphia, CoverForce is an insur-tech start-up with access to 5 of the top 10 insurance carriers in the US. They work to bring together different systems to build an end-to-end purchase experience for networks that are customised to their priorities.
They are open to hiring for front-end, back-end, and software development roles at Cutshort. To know more, click here.
Why join CoverForce?
Other than the fact that they have team leaders with experience of over 30 years working at some of the leading MNCs, they recently raised a $5M seed round at a $27M valuation. Their investors list includes NYCA Partners, QED, a Google Gradient partner, etc. Sounds like they are going places.
Nestech
Founded in 2019 and based out of Aachen, Nestech is a leading technical and electronic development company that takes pride in helping other top companies across different industries. Their fields of interest include Power & Electrical, Telecommunication System, Mechanical, Heavy Equipment Services.
Project managers, developers, and devOps are a few roles that they are hiring for at Cutshort. To know more, click here.
Why join Nestech?
As a Nestech team member, you get an international client base to deal with, creative environment to bask in, and total project ownership to become an individual contributor to the company's growth. Some other workplace benefits include competitive salaries, flexible working hours, paid vacations, etc.
And that's all for our April Spotlight. We will be back with more such companies hiring for top tech roles next month. And if you're a tech professional looking to work for the top companies, then don't forget to sign up at Cutshort — India's #1 tech hiring platform.