Modern recruiters today are facing a plethora of challenges while hiring. As businesses are growing more desperate for good talent, professionals are getting pickier and more stringent about their choice of workplace.
In a scenario like this, HR professionals are wearing many hats. They are doing everything from devising strategies for reaching the best candidates to ensuring a good candidate experience. However, no matter how much effort HRs put into their recruitment efforts unless they take a modern, technology-powered, data-driven approach, it is almost impossible for them to find and retain good talent.
Thankfully, today India has a variety of job portals that bring different things to the table. No matter what kind of recruiter you are, there is a job portal out there that will match your needs. All you now have to do is read this guide to find the portal that is the right fit for you.
How Do Job Portals Help Recruiters?
If you are not catching any good fish, it's not because there are no fish in the sea but because you are not casting a wide enough net.
The most sought-after feature of job portals is their ability to concentrate desirable talent in a unified place. The method and channel of posting and promoting job openings can significantly affect the quality of applications you receive. Job portals specifically attract professionals who are available and looking for a job.
Job portals also help recruiters look specifically for the candidates that match their candidate persona. Job sites do this by offering sophisticated filtering options that can be programmed to churn out candidates based on qualifications, locations, skills, and job criteria. This significantly reduces the recruiter's burden and increases hiring efficiency.
Job sites also help you segregate and hire individuals with varying experience levels. Some are exceptionally efficient job portals for hiring freshers, while others are known for having the best-experienced talent for recruiters.
Let's look at a few of India's most popular job sites so you can find exactly what you need for a successful recruitment season.
Job Sites for Freshers
Freshersworld
Freshersworld is a platform for new graduates and individuals with no prior work experience, as the name implies. The platform doesn't just have a mediation role in hiring, as it also helps applicants improve their skills through specialized skill-enhancement programs.
Freshersworld is a job site that lists both private and government employment opportunities. On Freshers World, recruiters can post free job vacancies; if they have a positive experience, they may upgrade to the premium plan.
Pricing: They offer three packages, namely Hot 1, Hot 5, and Hot 10, with 30days, 90days, and 180 days validity.
Internshala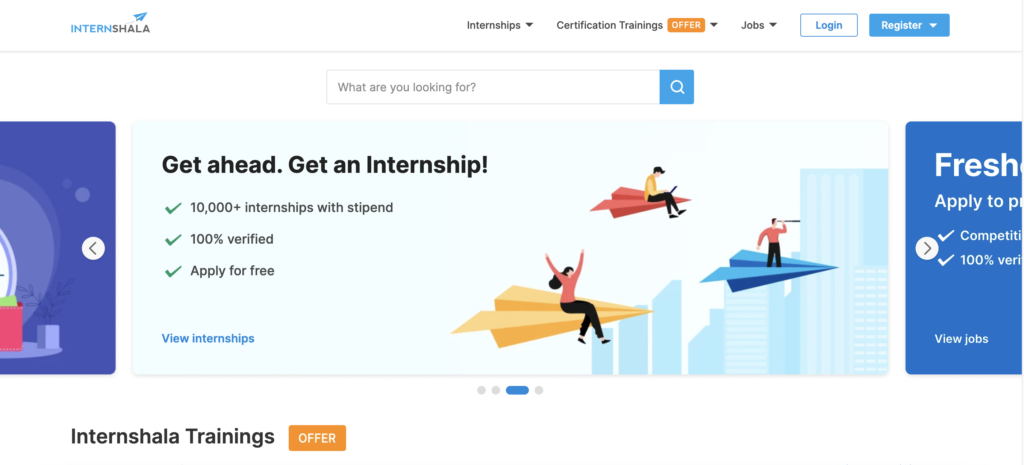 Interns sometimes surprise people and come up with the most exciting ideas. They are always a fresh source of opinions in an organization. Internshala is an internship-focused platform that allows recruiters to hire individuals temporarily.
An excellent platform for posting internships, Internshala is also a good platform for posting entry-level and fresher positions.
Pricing: Internshala does not charge employers for posting internship openings. However, you will have to pay INR 4999 to publish a full-time job.
FirstNaukri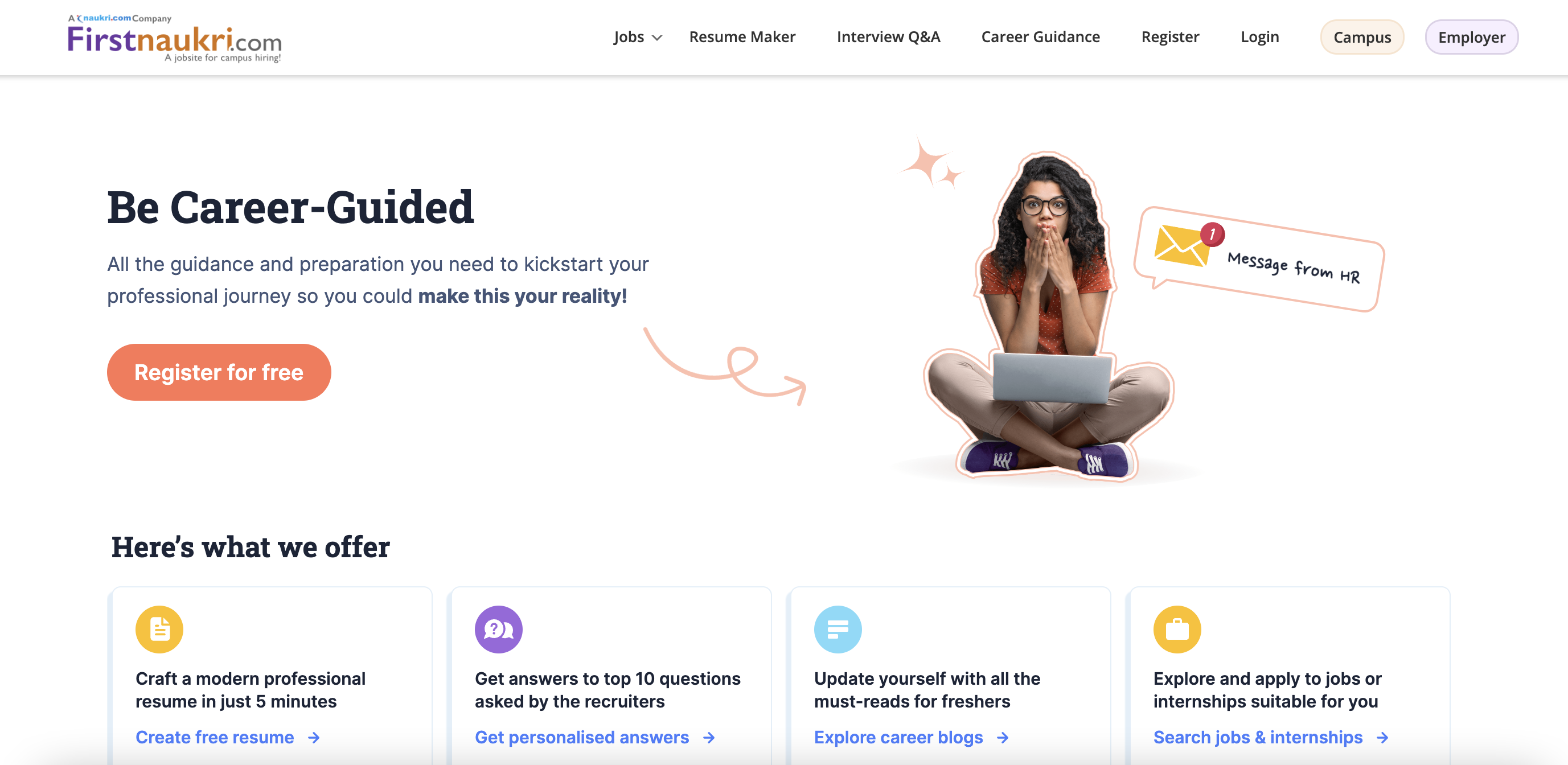 An extension of the popular Naukri.com, FirstNaukri is one of the biggest job sites for freshers and new graduates. By explicitly targeting entry-level positions, this site attracts talent that can be best molded to suit a business's needs.
Best Job Portals For Experienced
Naukri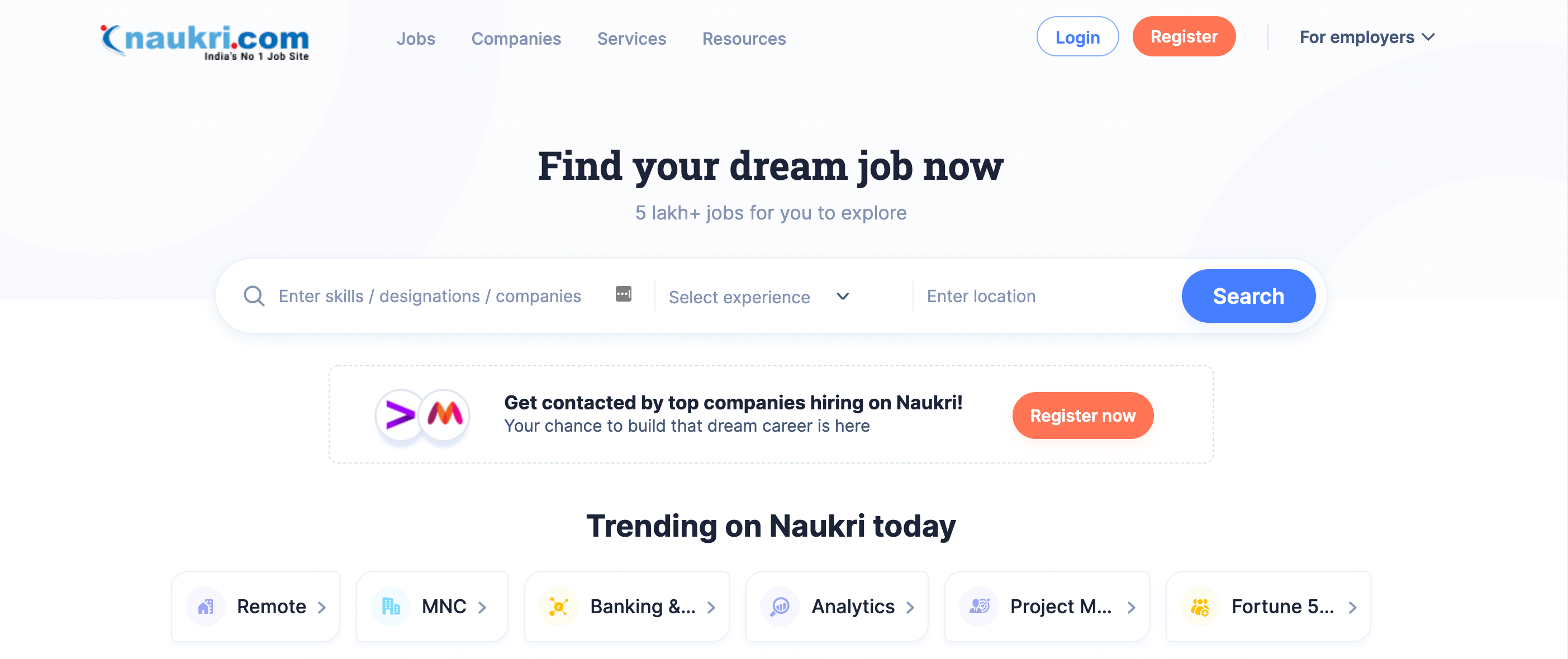 Naukri is one of the most popular hiring platforms in India. Typically, the first step an employer takes when looking for candidates for a specific position is to search the Resdex database on Naukri, where they may view all the profiles.
Naukri's services are free for job seekers but charge for extras like resume development, priority applicants, job search boosters, etc.
Because Naukri has the most extensive resume database (7.83 crores), companies mostly use it to locate applicants for available positions.
Pricing: There are four distinct sorts of packages available on Naukri, and these packages depend on how many days we need their services. It currently offers packages for three days, seven days, and 15 days (which include two classified vacancy job postings and three hot vacancy job postings).
Employers can also receive a free hot job vacancy posting in addition to these packages, typically costing 1650 Rupees for one posting.
Quikr

Small and medium-sized businesses, which cannot afford to spend much on recruiting, frequently use Quikr Jobs. Quikr Jobs offers free job posting with restricted visibility of applications; however, you can upgrade to their premium plan later to view applications. Quikr Jobs also assists in locating workers for nearby jobs.
Costing: They have three packages, Start-up, Medium, and Corporate, with a limited cadence. The cost of these packages is Rs. 900, Rs. 1299 and Rs. 1999 respectively.
Best Tech Hiring Platform In India
Tech hiring is a tricky path for recruiters, especially those who do not have a diverse tech background. However, specific job portals can assist HR professionals in finding experienced, premium talent without having to do extensive research.
Cutshort

Cutshort is not just a job posting website. It is an extensive community with the best quality tech talent in the country. It also has a specialized hiring community which allows recruiters to support each other.
Cutshort is an AI-powered source of a competent workforce that strives to give professionals the best version of their careers. It matches the tech professionals with positions that best fit their skills and preferences and, in turn, increases the quality of applications that recruiters receive.
Costing: Cutshort offers a free and paid version for recruiters to serve them better. They categorized their service features into four carefully curated packages to cater for each size of organizational demands. Their cost starts from Rs. 4170 per month and goes up to 12lakhs based on the features you opt for!
Hrtech.in

This platform is an excellent one-stop resource for job aspirants seeking openings in the quickly expanding HRTech industry. It continuously searches and updates opportunities from numerous job boards and firm career pages nationwide.
Best Hiring Platform For Startups
Shine

Shine is a great platform run by HT Media Limited, a well-known newspaper company. It is renowned as one of the innovative job sites that provides job seekers with helpful advice.
The employment portal's usual features include easy navigation, phone, email, and live chat help. It also has an app.
In addition to these, other essential tools for job seekers include sophisticated job search, job alert, resume creator, company evaluation, and the ability to hide your resume.
Pricing: The package for recruiters includes a Shine Starter Plan costing Rs.999 per month.
Top Apps For Job Search
CutShort is a platform that brings people, jobs, industry information, and other resources under the same roof. Its AI-backed system is free for candidates to use. For recruiters, they offer a variety of plans ranging from 4170 per month to 12 lakhs based on what a recruiter is looking for.
Indeed
Indeed is a popular name in the talent acquisition industry. Their mobile application lets you list jobs for no charge. You only have to pay if you want to promote the positions to accelerate hiring.
In Indeed, you receive applications right in your email inbox. The platform has an in-built ATS (application tracking system) that helps HRs scour resume data.
How Do I Hire Technical Team?
Good IT expertise is in high demand, but if you expect to acquire the best talent by doing nothing except posting job openings, you will be disappointed.
You must go the extra mile to get that perfect candidate on your team. Here are a few tips that can help you enhance your recruitment game.
Create a prospective candidate talent pool
Hire through referral programs
Organize hackathons (coding marathons for candidates)
Make sure your budget is approved
Try connecting with passive job seekers
You can reach out to us for help!
Read more in detail on our guide on "How to hire tech talent?"